123creative.com has released Creative sound bundle: Progressive VST plugins for sci-fi effects in cooperation with Epralux sound designers.
GENRES: any music genres: Progressive, Experimental, Futuristic, Cinematic music, Electronic dance music, Minimal, Psytrance, Chillout, Glitch, Nu school, Drum and Bass, Electro House, Classic Pop, Rock, Ambient music
"Creative sound bundle" contains 2 software plugins / VST effects: ORB7000 – Octave reverb system and POD4500 - Particle octaved delay.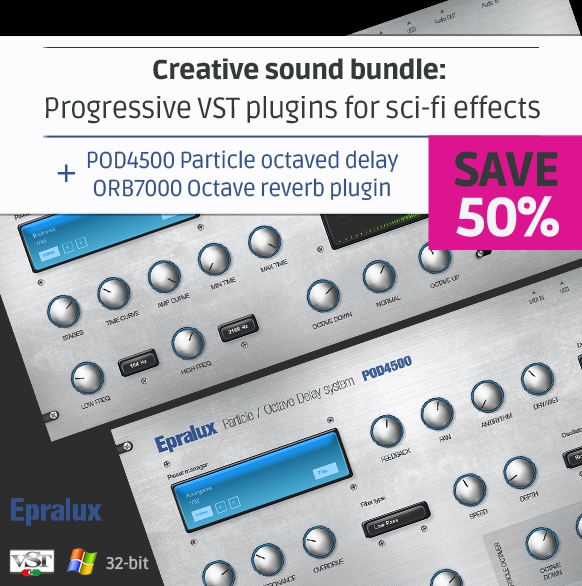 - Epralux ORB7000 – octave reverb system is not classic reverb simulation of real acoustic space. ORB7000 is special, artistic and creative octave / pitch-shifting reverb system for creating special sound and space effects, new sound colors and unique experimental sounds.
Main feature that makes ORB7000 different is special particle based pitch-shifting unit that splits reverbed signal to 3 sub-signals: octave down, normal, octave up. Then sound is split for very small time sequences (in milliseconds), octave down circuit play sound de-tuned -1 octave while octave-up circuit plays sound one octave +1 pitch shifted. This create really unique sound effects (to hear this effect best try ORB7000 with melodical sund samples like guitar, piano, synthesizer or human voice).
Features:
- Reverb unit with parameters: pre-delay, room size, damp, width, dry-wet, stages, time curve, amp curve, min time, max time, low frequency, high. frequency, sync, pre-delay, invert amp,
- Particle pitch-shifting/detuning / octave unit: octave down, normal, octave up
- Preset manager with 48 built-in PRESETS
- Epralux POD4500 is not delay like you know, it is something totally different. This plugin is intended for all producers who are seeking for new original sound. All internal modules are fine-tuned to create futuristic / experimental yet very pleasant and natural tones. POD4500 is perfect with experimental digital drums, as well as for effecting melodic instruments, synthesizers or sliced melodic loops.
POD4500 works on following principle:
a.) sound is delayed by classic bpm synchronized delay, with special features like antirythm for creating crazy unrythmical effects.
b.) sound is splitted to PARTICLES, these particles can be octaved / pitched – you can apply one multiplied copy of +1 octaved particle and one -1 octaved particle. This create fat space sound and special effects.
c.) delayed particles are additionally filtered by various types of filters + modulated with LFO modulation
d.) delayed signal is modulated with modulation unit
Features:
- Particle octave module with +1 octave up and -1 octave down amount knob
- BPM synchronized delay with pan/spatial processing, and "antirythm" function for rhythmical distortions
- multimode filter (low pass, band pass, high pass) for filtering delayed signal + LFO modulation (sine, saw, triangle, square) + distortion
- modulation unit with rated, depth, pre-delay, feed and mix knobs
- Preset manager with 32 fine-tuned presets
Product details:
• 2x *.DLL (VST plug-in)
• Requirements: Windows 32bit VST host (Cubase, FL studio and others)
Download TRIAL version / The product is available only at:
http://www.123creative.com/music-production-bundles/1324-creative-sound-bundle-progressive-vst-plugins-for-sci-fi-effects.html