123creative.com has announced special time-limited discount on Red Dragon 2 - VSTi synthesizer.
Genres: EDM, Electro House, Chillout, Chillwave, Etc.
Red Dragon VST synth features 614 all-new patches, plus the original 384 patches, for a total of 998 preset sounds from 27 sound designers.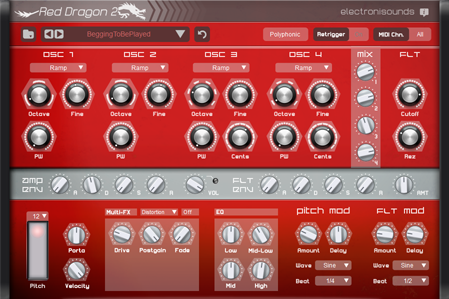 From these programmers you will enjoy a large and capable sound pallete exploding with analog goodness and featuring enough variety to make the Red Dragon useful in many different genres of electronic music. Pads, textures, leads, fx, basses, organs, retro emulations and much more.
Features:
- 4-Oscillators w/PW and Fine Tuning (sine, saw, ramp, triangle, pulse, white noise, pink noise)
Osc's 3 & 4 have a "Cents" control
Osc 1 & 2 Octave range: -1 to +1
Osc 3 & 4 Octave range: -2 to +3
- LP Filter
- LFO to Filter (With Amount and Delay controls)
- LFO to Pitch (With Amount and Delay controls)
- LFO's Sync to BPM (1/16, 1/12, 1/8, 1/4, 1/2, 1/1, 2/1, 1bar, 2bar, 4bar) (sine, triangle, saw, ramp, square, noise, sample/hold)
- "Boost-Style" EQ (Hi, Mid, Mid-Lo, Low) (Note: These can seriously CRANK the volume of your patch!)
- 2 ADSR Envelope's -- Amplitude & Filter
- Built-in FX: Auto-Pan, Chorus, Delay, Distortion, Flanger & Reverb
- Built-in preset browser
- Mono & Poly Modes with Re-Trigger option
- Portamento
- Pitch-Bend Wheel
- Velocity Sensitivity
Details:
- File formats: *.EXE (VST plug-in)
- Requirements: Windows 32bit VST host (Cubase, FL studio and others)
- VSTi synthesizer + 998 preset sounds
More info / Demosong: http://www.123creative.com/music-production-vst-au-instruments-synthesizers-plug-ins/1268-red-dragon-2-vsti-synthesizer.html