123creative.com releases Psytrance / Trance / Goa / Progressive Bundle: Virtual analog synthesizer + FX samples
GENRES: all music styles, recommended for Psytrance, Progressive, Trance, Psy, Goa, Progressive Trance, Electro, Drum & Bass, Experimental, Electro House, Darkpsy, Techno, Breakbeat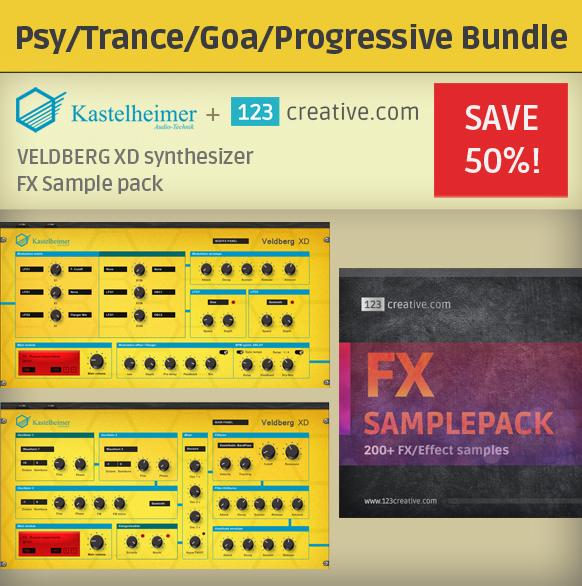 Veldberg XD is virtual analog synthesizer based on algorithms from hardware VA synthesizers, which offers cold heavy and ultra sharp sound with analog sounding liquid filters and hard oscillators.
Veldberg XD offers wide sound possibilities from classic massive analog to experimental and innovative digital sounds, usable for various sound styles. Thanks to 3 oscillators (every oscillator has more than 28 waveforms), 8 filters, 3 envelopes, 2 LFOs and Modulation matrix.
Veldberg XD has various new features and technologies as:
- OSC signal routing / mixing in various modes: (Standard, Synchronizer, Hernsht1, Hernsht 2, RingMod,)
- HyperTWIST technology – for experimental/FX sounds
- Klangcharakter – If turned off, synthesizer sound similar to basic soft synthesizers (thin, basic / weak sound)
if turned ON expect heavy, bass, massive hardware/analog sound on low frequencies and sharp / brilliant / strong sound on high frequencies.
Veldberg is synthesizer that will surprise you with new character of sound, intensity of sound on bass and treble frequencies (sound that will be always significant in mix) wide sound creation possibilities and new technologies / algorithms. Veldberg XD comes with 137 various presets in various styles like: Bass, FX, Lead, Arp, and Psy (Psytrance).
FX Sample pack contains 208 FX samples (effects) sounds for every music style production. From fresh and positive dance FXs to mysterious and dark FX sounds from outer space.
You can additionally combine / layer individual samples and apply VST effects to create your own sounding effects.
FEATURES:
• File formats: *.dll (VST plug-in), *.WAV (samples)
• Synthesizer requirements: Windows 32bit VST host (Cubase, FL studio and others)
• Product content: Kastelheimer Veldberg XD synthesizer (2 pages), FX Sample pack (208 samples)
Introductory price (50% off): 29.45 €
Price: 58.90 €
More info / Download Free Demo version at:
http://www.123creative.com/music-production-bundles/1239-psytrance-trance-goa-progressive-bundle-virtual-analog-synthesizer-fx-samples.html